"…. A horse that delights in being ridden."
"Classical Dressage is the real thing, the original in all its purity. it should be very simple. It is nothing more nor less than practising dressage with a correct seat and correct training methods."
 Sylvia Loch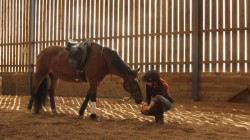 Hello,
Thank you for visiting my page! Let me begin by briefly telling you a little about myself. My riding adventure began as a 10 year old. Even from this age, all I desired was a partnership with my horse, for us to be a team. Through the years, I have competed mainly in showing, through in hand, ridden, equitation and working hunter classes where we were quite successful at local, county, agricultural shows and championships such as the Northwest Champions and the Festival of Champions. I have to be honest, I preferred the working hunter classes to showjumping. I loved the thrill of the cross country but have not competed in this sphere.
Working in harmony with my horses has always been my ambition and I was always searching for how I could better myself so I could become that invisible rider, then I found it what I was looking for; Classical riding. Classical riding is available to anyone, whether you are a young or old, a happy hacker, a jumper or a dressage rider. You can improve your horse's way of going, his gymnastic development and longevity through classical training methods. It is improving your own posture and position in the saddle to become more effective and invisible in your aids so you and your horse become one, working in harmony together, as a partnership, as it should be.
I am very fortunate to work with a variety of breeds, from Warmbloods, Irish Draughts, Welsh Cobs, Gypsy Cobs, PRE's, Friesians, Arabs, Saddlebreds, Thoroughbreds, Quarter horses etc. Each horse has a different conformation which needs to be taken into consideration when working with them to help the horse to build confidence and enjoyment in his work. I am happy to work the horse on the ground through lungeing and work in hand or under saddle, which ever the horse needs during that moment of training.
I also enjoy focussing on the rider's position in the saddle and on the ground. I am Sylvia Loch's only Accredited Weight Aids Instructor and offer unmounted workshops for riders wanting to better improve their position, their aiding and suppleness through work on their own two feet as well as in the saddle. I can help you improve your position to become more secure in the saddle but also to become more effective in your aiding, which in turn, will help you begin to feel – the language of riding.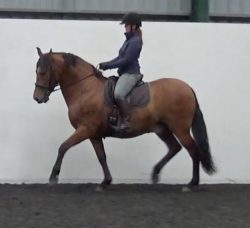 I am very fortunate to be taught by two very influential and inspiring teachers, Nuno Cavaco and Sylvia Loch. The combination of their teaching enables me to work with both horse and rider as a partnership and individually, whether this be in the saddle or on the ground. Yes! I can work with the rider on their own two feet to improve their overall suppleness and also help their understanding of the weight aids so they can be more effectively applied when in the saddle. Ground work doesn't just apply to the horses!
I love to read. I have read books from many Masters, such as Charles de Kunffy, Erik Herbermann, Herny Wynmalen, Franz Mairinger to name but a few. I am continually striving to develop my own skills and further deepen my knowledge so I can pass onto students in want of similar aims and goals for what they desire.
I believe in taking time to build the correct foundations but also to understand your horse better so we can further his education in a positive way through consistent training whether on the ground or in the saddle.
I am qualified as a BHSAI, fully insured, first aid trained and DBS checked.
I do get asked why I currently don't compete and it's purely because I want to dedicate my time to furthering my own development, to training my own horses and rather importantly,  giving time to teach students. Education and development of skills is so important to me, I find it can often become overshadowed through competition. This is my own personal preference. I teach several students who compete regularly either showing or lower level to Medium level dressage.
I hope this gives you a brief insight about me and if you do have any questions or want to know more, please don't hesitate to contact me.
Thank you for reading and I hope you enjoy the rest of my website.
Best Wishes
Claire